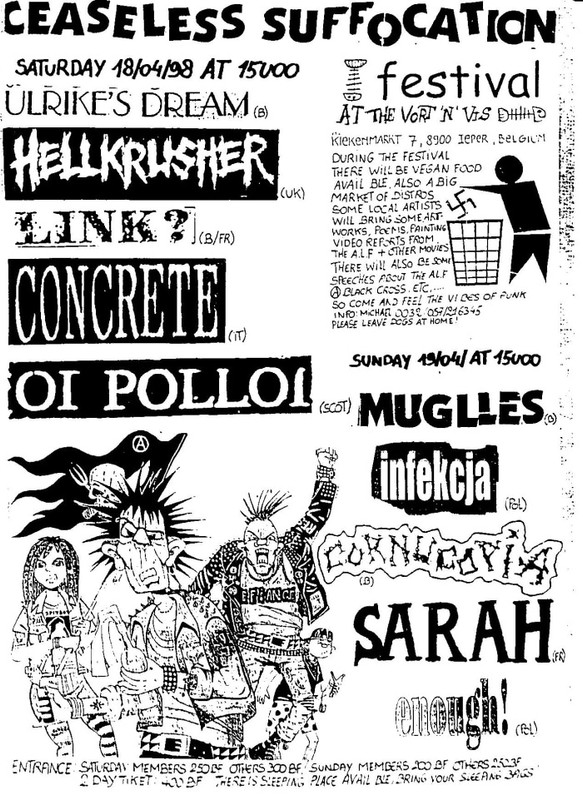 According to the website Vort'n Vis in the Nineties (thank you!) Ulrike's Dream played a show there with Hellkrusher (UK) and Scottisch punkband Oi Polloi.
Concrete had played in JH Clockwork not long before. Some UD members were big fans and played their 10 inch record on a daily basis. Jeroen had left the band, but he sang a couple of tunes, so he could see the other bands for free. Mich came along to sing the DIRT-cover. People at the entrance noticed the large amount of singers Ulrikes Dream had and told them this was more than enough.
Ulrikes Dream played on the guitar amp of Michael, guitar played in LINK, organiser of this show and sound guy. It was the first show with a "big" amplifier. He warned that the guitar was way too loud. But ofcourse the band was convinced that there was no such thing as "too loud" in punk music. This turned out to be a mistake. The band just blamed the PA for the band sound afterwards, but learned from it.
There was a lot of pogoing going on during the Oi Polloi concert. UD-members demonstrated the art of silly dancing once again.
Hellkrusher didn't play (according to "Vort"'n Vis in the nineties) and was replaced by Hellcorn.
Bands: Oi Polloi (UK), Concrete (IT), Hellkrusher (UK), Link (BE), Ulrike's Dream (BE)
Ulrikes Dream line-up: Sapé (vocals), Jeroen (vocals), Mich (guest vocals), Hans (guitar), Erik (bas), Anton (drums)