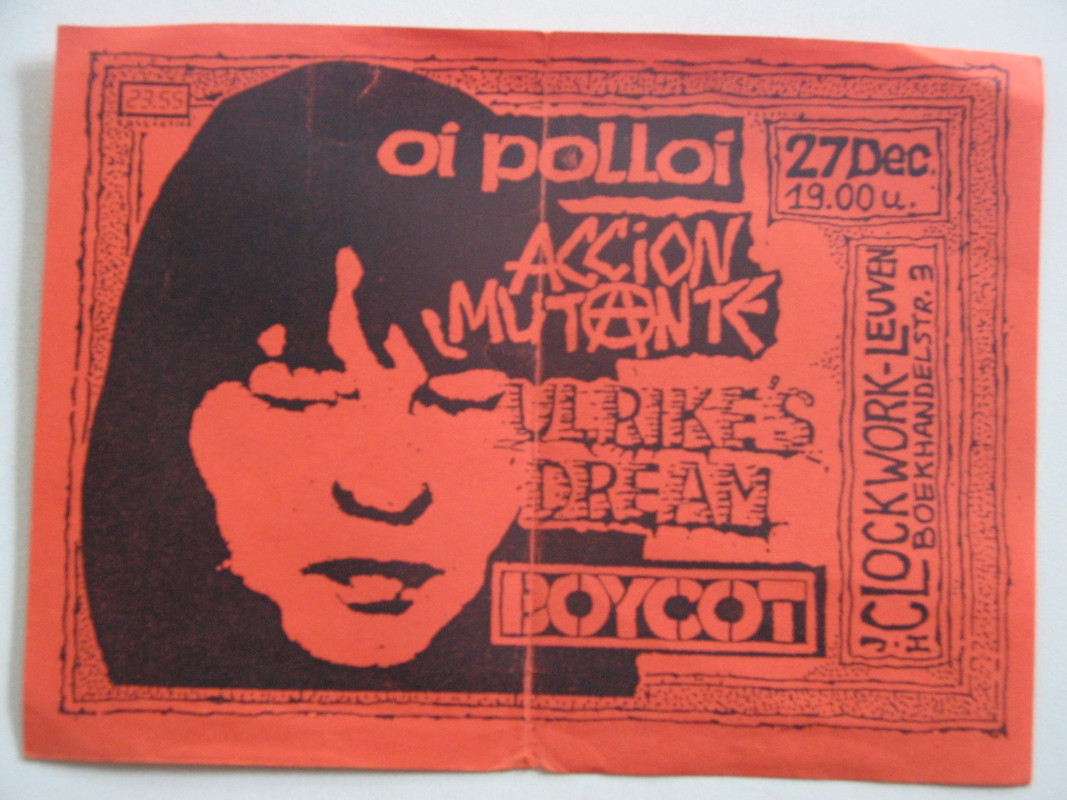 Ulrike's Dream started in a local youth centre called Clockwork. Clockwork had a sixteenth/seventeenth century basement that was used for concerts. Many cool bands played there.  Ulrike's Dream also played their first show there on 27 december 1997.
Ulrike's Dream opened the evening with an instrumental, announcing that they brought two guest singers because their real singer (Johan) couldn't make it. The second song was "Licensed to kill", which would appear on their demo but also -in 2011- on their full length "Van 9 tot 5". Third song was "It's not violence", a song about sabotage and direct action. "Europe (Your rope)" was also on the demo "Burn, burn, burn the European Swastika". Hans announced a demonstration against fascism before the band played "Passivism". Next: "De oorlog was maar een grapje". It was the first song in Dutch ever and was sung by Hans, assisted by Mich – a friend who also helped organise the shows (and other shows). A cover of Dirt's "Hiroshima" was dedicated to Boycot's drummer and (mainly) sung by Mich. "Do we ask too much" was the last song of the set, but ofcourse you have to play some encores. After "Licensed to kill" it was time to drink some beers and leave the stage.
Accion Mutante from Germany played their brutal crust. The band is still alive. And still playes brutal crust.
Boycot (from Holland) was very popular among the Clockwork crowd. Lots of people had their split ep with Insane Youth (one of the bands  you you can label as "pre-Visions of War"). Later both bands would play together a couple of times.
Oi Polloi played a fun show for an  enthousiastic crowd. Their political and songs that you can sing along to, have allways been an inspiration for Ulrikes Dream.
Line-up Ulrikes Dream: Anton (drums, Hans (Guitar), Erik (bass), Sapé and Jeroen (vocals), Mich (extra guest vocals)
Listen to the full show:
Place: Jeugdhuis Clockwork, Boekhandelstraat 3, 3000 Leuven